Penerapan Biaya Relevan Dalam Pengambilan Keputusan Menerima atau Menolak Pesanan Khusus Untuk Peningkatan Laba Pada Toko Roti Annie Bakery and Cake Medan.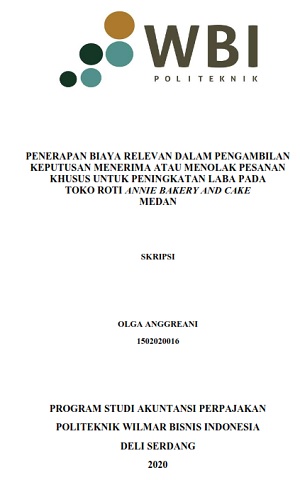 Date
2020
Abstract
Salah satu informasi penting dalam pengambilan keputusan adalah mengenai informasi analisis biaya relevan. Penelitian ini bertujuan untuk mengetahui perhitungan biaya relevan yang dilakukan oleh Annie Bakery and Cake dalam menerima atau menolak pesanan khusus serta untuk menganalisis penerapan biaya relevan pada Annie Bakery and Cake. Objek penelitian ini adalah Annie Bakery and Cake yang berlokasi Jl. Bambu II No. 75B, Durian, Kec. Medan Timur, Kota Medan, Sumatera Utara 20236. Jenis penelitian ini adalah deskriptif kuantitatif. Jenis datanya adalah data kuantitatif. Sumber data diperoleh dari data primer dan sekunder. Teknik pengumpulan data yang digunakan adalah dengan menggunakan metode observasi dan wawancara. Berdasarkan data perhitungan laba rugi sebelum dan setelah menerima pesanan khusus diketahui bahwa Annie Bakery and Cake dapat menerima pesanan khusus tersebut karena pesanan khusus tersebut dapat memberikan keuntungan sebesar Rp 5.216.417 dengan memanfaatkan kapasitas mesin yang masih belum maksimum.
One important information in decision making is about relevant cost analysis information. This study aims to determine the relevant cost calculations performed by Annie Bakery and Cake in accepting or rejecting special orders and to analyze the application of relevant costs at Annie Bakery and Cake. The object of this research is Annie Bakery and Cake, located on Jl. Bambu II No. 75B, Durian, Kec. Medan Timur, Kota Medan, North Sumatra 20236. This type of research is quantitative descriptive. The type of data is quantitative data. Sources of data obtained from primary and secondary data. Data collection techniques used are using observation and interview methods. From the results of calculations regarding the relevant costs in making decisions to accept or reject special orders can provide benefits to Annie Bakery and Cake. Based on the profit and loss calculation data before and after receiving special orders, it is known that Annie Bakery and Cake can accept special orders because these special orders can provide a profit of Rp 5.216.417 by having a maximum capacity of fixed assets.
Collections